View the current and previous Minutes Minutes include Board, Planning Commission, ZBA, & Board of Review
IMPORTANT NOTICE
In the interest of public safety, and the safety of our staff due to COVID-19 concerns, our offices will be closed to the public without appointments until further notice. Appointments can be made by calling:
(517) 547-6598
.
Permits can be found and downloaded from this
website page
, and for those without internet access, requests can be submitted by mail to:
Woodstock Township Hall, 6486 Devils Lake Hwy. Addison, MI 49220
.
Payments can be made by utilizing our drop box out front, or by US mail. Please mail payments to the address listed above. Thank you in advance for your cooperation in these matters.
Where to Vote in Woodstock Township
Note: Voting is now held at one location only.
Precinct 1
Woodstock Township Hall
6486 Devils Lake Hwy., Addison, MI 49220
Welcome to Woodstock Township
Woodstock Township is a residential and commercial community with several lakes within the area.
Notice
The Woodstock Township Board meets on the second Monday of each month at 7:00 pm at the Township Hall. Special meetings will be posted at least 18 hours in advance at main entrance on bulletin board of the Township Hall as required by statute.
Township Hall: 6486 Devils Lake Hwy, Addison, MI 49220
Contact Info
Woodstock Township
6486 Devils Lake Hwy
Addison, MI 49220
Phone: (517) 547-6598
Fax: (517) 547-4618

Township Hours
Office
Monday, Tuesday, Friday: 9 am - 1 pm
Thursday: 12 pm - 4 pm
Supervisor
Saturday: 10 am - 12 pm
Clerk
Monday: 1 pm - 4 pm
Thursday: 9 am - 12 pm
Treasurer
Wednesday: 8:30 am - 11:30 am
Other
Assessor - By Appt.
Board Members - By Appt.
Overview of
Woodstock Township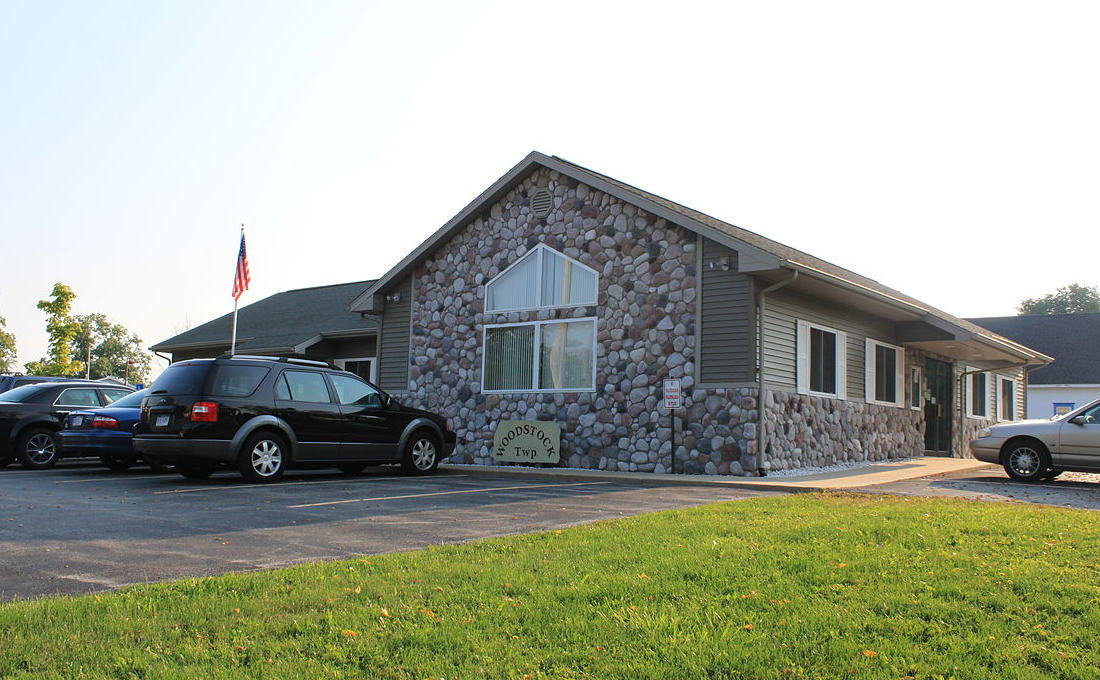 State: Michigan
County: Lenawee
Metro Area: Adrian Area
Unincorporated Place: Manitou Beach-Devils Lake
Villages: Addison, Cement City
ZIP Codes: 49220, 49230, 49233, 49253
Unified School Districts: Addison, Columbia, Onsted
Congressional District: MI-7
State Senate District: MI-17
State House District: MI-57
Neighboring Twps: Cambridge, Columbia, Liberty, Rollin, Rome, Somerset, Wheatland
Nearby Twps: Adams, Adrian, Franklin, Hanover, Hudson, Moscow, Napoleon, Norvell, Pittsford
---
Woodstock Township is a great place to

visit!

live!
Lenawee County... Addison, Michigan
Devils Lake
Located in Addison, Michigan
Devils Lake is a natural lake located in northwest Lenawee County approximately 13 miles north and west of the community of Adrian. It is the largest lake in Lenawee County and has a maximum depth of 63 feet.